Social Media Part 9: Google AdWords
This one unexpectedly fell into my lap.  I received an email offering $100 worth of ads free, which I dismissed immediately.  But the idea kept spinning around in the back of my brain and when I received a second email about the promotion I jumped on it.  Now that the campaign has run its course I am looking at the results to determine the level of success from my $100 investment.
I created a simple ad campaign with a visual ad and a text ad and let it loose.  I definitely saw referrals coming in and felt happy at the thought of this increased traffic.  Here is a graph from my AdWords account showing the account activity over the full period of the "campaign" which is now complete as the free $'s have run out.
Looks like some decent hits.  Money well spent (someone else's money being the key).  But what is the real effect on my readership.  The hope would be that a certain percentage of the visitors would come back of their own volition.  So I stacked up the clicks against the blog views to see what sort of pattern emerged.
I would say that the period leading up to the start of September and the period after the Google AdWords campaign ends look pretty consistent.
The spike at the start of September is mostly likely due to my increase in Superchunk related posts tied to their new album Majesty Shredding being released September 14.  The heightened interest due to the pending release meant that my timely content was of interest.
Once the campaign starts mid-September it appears that there is an overall bump to the highs and low, which is what would be expected given the extra clicks.  This bump is not as high as I expected, though.  My guess is that the ads brought people to the home page (1 view) which they would peruse and then leave, not interested in my crazy content.  The ads were pretty generic and I'm guessing people just liked the pic of my daughter with the giant headphones.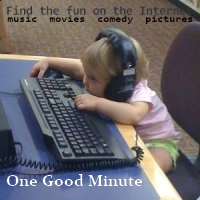 After the campaign ends there does not appear to have been much of a lasting effect.  So the ads generated some additional traffic, but nothing sustaining.
Given another free chunk of ad dollars I would try this again and this time make the ads much more specific to the site (if possible) to hopefully better target the ads and bring more quality traffic.  I would not say this exercise was a waste of time as the learnings are useful, but I definitely do not feel that the blog has become any more popular as a result, though longer term effects are still possible, I suppose.